What's New Features in WordPress 5.4, this new release is packed with a lot of features, many of them are focused around the WordPress block editor. This release will massively improve the way you create content on your websites.
WordPress 5.4 is a major release, and unless you are on a managed WordPress hosting service, you'll have to manually initiate the update.
Important: Don't forget to create a complete WordPress backup before starting the update.
Improvements to the Block Editor
What's New Features in WordPress 5.4.
The New Welcome Guide Modal:
To help new users get started with the block editor quickly, WordPress 5.4 offers a new welcome guide popup. It is a simple slide show in the popup window showing crucial information about blocks to first-time users, taking them to the Block Library, and providing a link to block editor tutorial.
Want to relaunch the guide? Simply click the three-dot menu on the top-right corner of the editor and then select Welcome Guide.
Update: If you want to permanently disable the full-screen mode, then see our tutorial on how to disable full-screen editor in WordPress.
Two New Blocks in WordPress 5.4
WordPress 5.4 brings two new blocks for you to use while writing content.
 Social Icons Block:

 Using this, you can easily add links to your social media profiles inside your pages and posts. It offers three styles – default, logos, and pills. Social icons are available in their brand colors and there is no option to change their colors.
After that, you can click on the add button and select a social network that you would like to add. You can then click on the social network icon and provide the link to your profile.
Social Icons block only allows you to add social media icons with links to your profiles. It does not add social sharing buttons. For that, you'll still need a social media plugin with sharing features.
2. Buttons Group Block: The Buttons block replaces the previous Button block and now allows you to add multiple buttons side-by-side.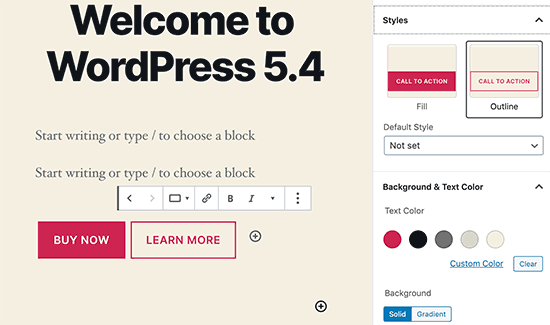 There are two different styles to choose from: You can select the background or gradient colors for each button and choose from two different styles.
Improved Blocks Your Should Try in WordPress 5.4
From WordPress 5.4, Several blocks are improved with new enhancements. Here are the top changes that will make a big difference in your writing experience.
From WordPress 5.4, you would be able to choose background and text colors for all the blocks inside a Columns block or Group block.
You can also choose text and background color with gradients for cover block, and you can even choose background and text color for all the blocks inside a group block.
If you regularly use the Columns block, then you can also use color for separating columns from regular paragraphs.
Block Selection Tool
A new button in the toolbar now allows you to easily select blocks. This is a really useful tool particularly when you have nested blocks inside a group block.
Simply click on the select tool and then take your mouse to the block you want to select.
Drag and Drop to Add Featured Image
Previously, you needed to manually select to upload and set the featured image. This didn't match the drag and drop ability of the content editor.
Now with New Features in WordPress 5.4, you can simply drag and drop an image to the featured image section.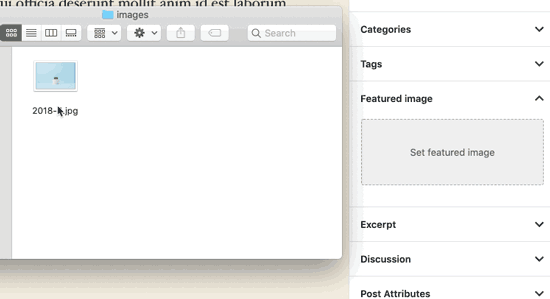 Better Mobile Toolbar for Block Editor
Previously, if you had to edit a blog post using a mobile device, then you may have noticed how the block settings toolbar moved around.
This made it quite difficult to use the editor on mobile devices. WordPress 5.4 has fixed this with a fixed toolbar on the top.
Select Image Sizes in the Gallery Block
Previously you were not able to select image sizes for images in the image gallery block. Now, you can select image size directly in the gallery block settings.
Improved Latest Posts Block
Previously, the Latest Posts block didn't include the featured images. You can also choose the size and alignment for the featured image. This makes the Latest Posts block a lot more engaging and useful.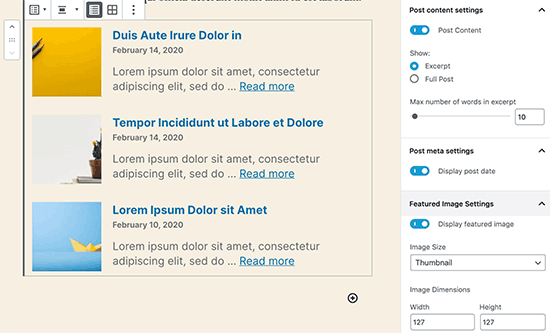 You Can Now Embed Tik Tok Videos in WordPress
WordPress 5.4 includes oEmbed support for TikTok videos. Basically, you can now add TikTok videos to your WordPress posts and pages just like you would embed YouTube videos.
Simply paste the video URL and WordPress will automatically embed it.
Updated Privacy Tools in WordPress 5.4
WordPress 5.4 brings improvements to the built-in privacy tools. Personal data exports now include session tokens, community events location, and custom user meta.
Personal data export now comes in two files in HTML and JSON. The HTML file includes a table of contents at the top for easier navigation.
Site Health Check Improvements
WordPress 5.4 adds a new Site Health Check widget to the Admin dashboard that shows a quick stat about the site's health and warns site owners about potential issues that could affect the security and performance of their site.
As you can see, a call-to-action button is also given to direct administrators to the Site Health screen for detailed information and suggested fixes.
Developer Changes in WordPress 5.4
WordPress 5.4 has several improvements for developers. These enhancements affect theme and plugin developers mostly.
New hooks in WordPress 5.4 allow developers to add custom fields to navigation menu items. (Details)
Developers can now add keyboard shortcuts to the block editor. (Details)
WordPress 5.4 changes the HTML output for the Calendar widget. It moves the navigation links to a <nav> HTML element right after the <table> element in order to produce valid HTML. (#39763)
A new apply_shortcodes() the function is now available as an alias to the do_shortcode()  function. (#37422)
Some unused customizer classes are now formally deprecated in WordPress 5.4. (#42364)
What to Expect In WordPress 5.5
WordPress 5.5 is expected to be released on August 11, 2020. Here are some prominent features that are expected in WordPress 5.5
---
We hope this post helped you to find out What's New Features in WordPress 5.4. 
We love to hear your comments on this article. Please feel free to leave any comments here.
If you liked this article, then please share to Social Media Site. You can also find us on Facebook, Twitter, and Instagram.
Thanks for reading this article.