Google Maps Gets Estimated Toll Prices and Better iOS Widgets in India. Google Maps in India will show the likely toll pass prices on a route so that you can take that into consideration while calculating the cost of travel. This is among the few other features that Google has freshly added to its map application. Especially on Apple devices, the navigation app is becoming more accessible. Common, let us walk you through the new Google Maps update.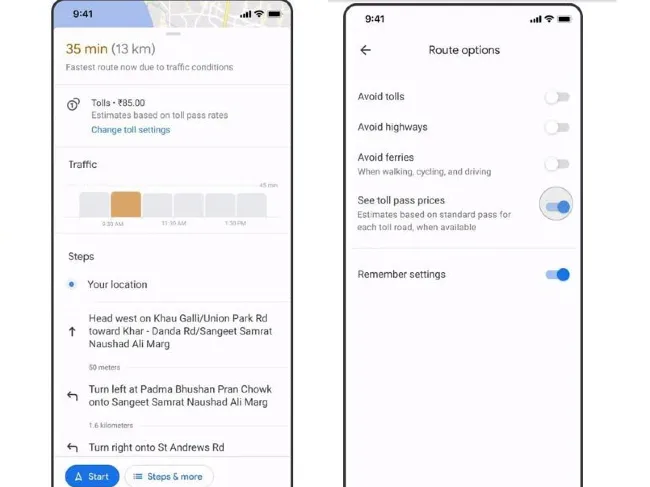 Google Maps India shows toll prices on a route. This is an estimate based on the trusted toll pass information from local authorities. It also depends on the standard cost of using a toll, other payment options as well as the time and day of the week you would be traveling on. However, if you don't want to take the toll road, just tap on the three dots at the top right corner of the 'Directions' screen on Google Maps, then hit on 'Change Toll Settings' and within the 'Route Options', toggle off the 'Avoid Tolls' option. That's it. This feature will be rolled out this month to both Android and iOS users.
Google Maps on iPhones are becoming smaller but will show details of a trip like "arrival time, the next departure for your public transport trip, and even a suggested route if you're driving".
If you don't have the phone handy, you can access Google Maps directly from the Apple Watch shortcut and begin navigation. There's even an option called 'Take me home' for a navigation guide on that particular route.
Making things even more convenient could be the new Siri shortcuts like "Hey Siri, get directions" or "Hey Siri, search in Google Maps" to trigger navigation on Google Maps.
Now all you got to do is ensure that you are having the latest Google Maps version on your device and soon you should be getting these new features.
---
We hope this post helped you to find out that Google Maps Gets Estimated Toll Prices and Better iOS Widgets in India.
We love to hear your comments on this article. Please feel free to leave any comments here.
If you liked this article, then please share it on Social Media sites. You can also find us on Facebook, Twitter, and Instagram.
Thanks for reading this article.