Paytm Payments Bank Enables AePS Banking Services through Aadhaar Card, attempting to take banking services to the bottom of the pyramid consumers. Paytm Payments Bank Ltd (PPBL) announced the integration of the Aadhaar-enabled Payment System (AePS) for cash withdrawal, balance inquiry, and mini statement.
Customers can now access these basic banking services through the business correspondent of any banking and financial institution in the country. Soon, features like cash deposit, interbank fund transfer, etc. will also be made live.
Speaking about the initiative, Satish Kumar Gupta, CEO, and Managing Director, Paytm Payments Bank said,
"We have continued with our efforts to expand the digital banking network in the country and benefit millions of our customers with innovative features and unmatched service. With AePS, we are aiming to accelerate the financial inclusion in our country and ensure that people in the remotest part of India are able to access complete banking services."
AePS is an NPCI-led model, which allows online interoperable financial inclusion transaction at PoS (Micro ATM) through the business correspondent of any bank using the Aadhaar authentication. The only inputs required for a customer to do a transaction under AePS mode are IIN (identification of the customer's bank), Aadhaar number, and fingerprint.
AePS is also used for disbursements of government entitlements like NREGA, social security pension, handicapped/old-age pension, etc. AePS has seen tremendous growth in recent times.
PPBL has partnered with over 10,000 business correspondents, who will have access to BC App to facilitate AePS transactions. The maximum amount is limited to Rs 10,000/- per transaction. For cash withdrawal, the monthly limit is Rs 50,000 or 10 transactions, whichever is reached earlier.
AePS is free for all PPBL customers. This is expected to benefit people in rural and semi-urban areas, who have limited access to physical bank branches and ATMs.
---
What are the benefits?
Accessible Banking: Banking is now closed and can be accessed at the nearest business correspondent center, irrespective of the bank
Banking Points: PPBL has partnered with over 10,000 business correspondents to offer banking services
Financial Inclusion: Providing easy access to banking even in rural & semi-urban areas
What services can you perform via AePS?
Cash Withdrawal
Balance Inquiry
Mini Statement
Cash Deposit*
Interbank fund transfer*
*Coming Soon
What do you need to use AePS services?
Aadhaar Number/ VID (Virtual ID)
Fingerprint/ Iris
Bank (IIN)
How does it Work?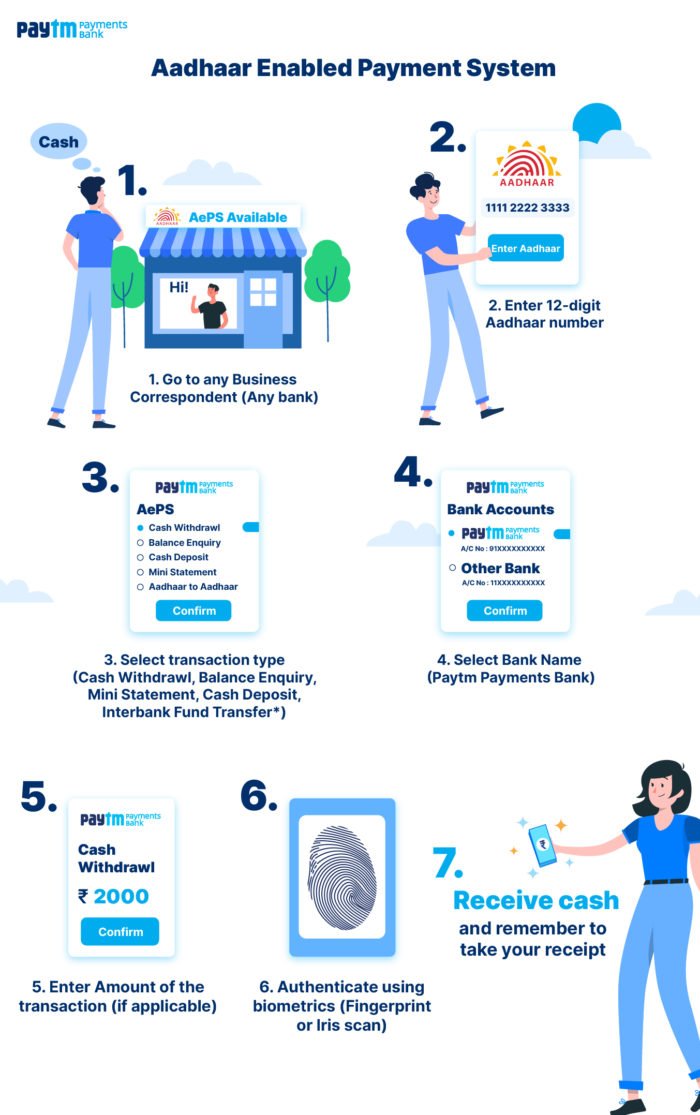 Important points to remember in AePS:
No OTP or PIN should be shared with the business correspondent
Ensure your Paytm Payments Bank account is linked to your Aadhar card
Maximum amount per transaction: Rs. 10,000/-
Monthly limit for withdrawal: Rs. 50,0000/- or 10 transactions
Download Paytm AePs Agent App v4.7.2 Latest Version
---
We hope this post helped you to find out the Paytm Payments Bank Enables AePS Banking Services.
We love to hear your comments on this article. Please feel free to leave any comments here.
If you liked this article, then please share to Social Media Site. You can also find us on Facebook, Twitter, and Instagram.
Thanks for reading this article.