How To Use Hashtags Effectively In Social Media Marketing. 
If you are not utilizing hashtags, you are dismissing a key method of growing your social media following. Social media users have been using hashtags for years to get more likes on their posts (#sundayfunday, anyone?). Even today, these hashtags are proving useful to businesses who are looking forward to expanding their reach and followers.
Since you are a beginner in this, there must be questions like "how do I use hashtags" or "where do I place the hashtags." As you start developing your own strategy, you will get to know all the basics of using hashtags. The best part is you don't have to be a social media expert to use them. Anyone can easily include them in their posts.
However, some extra planning and reasoning will be required for a successful hashtag strategy to grow your influence in social media. So let's dive into the details of hashtags to help you become well-prepared for this new social media strategy.
What Are Hashtags?
It is a word or phrase preceded by the hash (#) sign which identifies a specific topic. Although this might come across as very simple and easy, using hashtags for social media marketing is a little more complex than the definition. Even though the hashtag world is a bit sophisticated, doing some research can make it easy and beneficial for you.
Hashtags are a trick of reaching more users and therefore gaining more views to your posts and probably your account too. Also, hashtags are classified into various types, such as trending, niche, branded hashtags, and much more. All these hashtags can bring unique benefits to your posts and can be used in several ways to boost the number of people that view your content.
For instance, trending hashtags are the hashtags that a lot of social media users are currently using, generally as part of a hot topic or popular conversation. To initiate a conversation around your brand or to discover user-generated content, you can create a branded hashtag (for example, Coca Cola uses #ShareTheCoke). A niche hashtag is specific to your specialty and has relatively fewer content to play against, enhancing the likelihood that your target audience will find your post.
However, these three types of hashtags are just a drop in the oceans. There are a plethora of hashtags out there, but these three are sufficient to get you started for now. Conduct research and find out which hashtags are recommended for your industry. Give them a try and see if they work out for you too. To reach multiple demographics of audiences, use a combination of hashtags in your posts, and watch out for the ones that work best for you.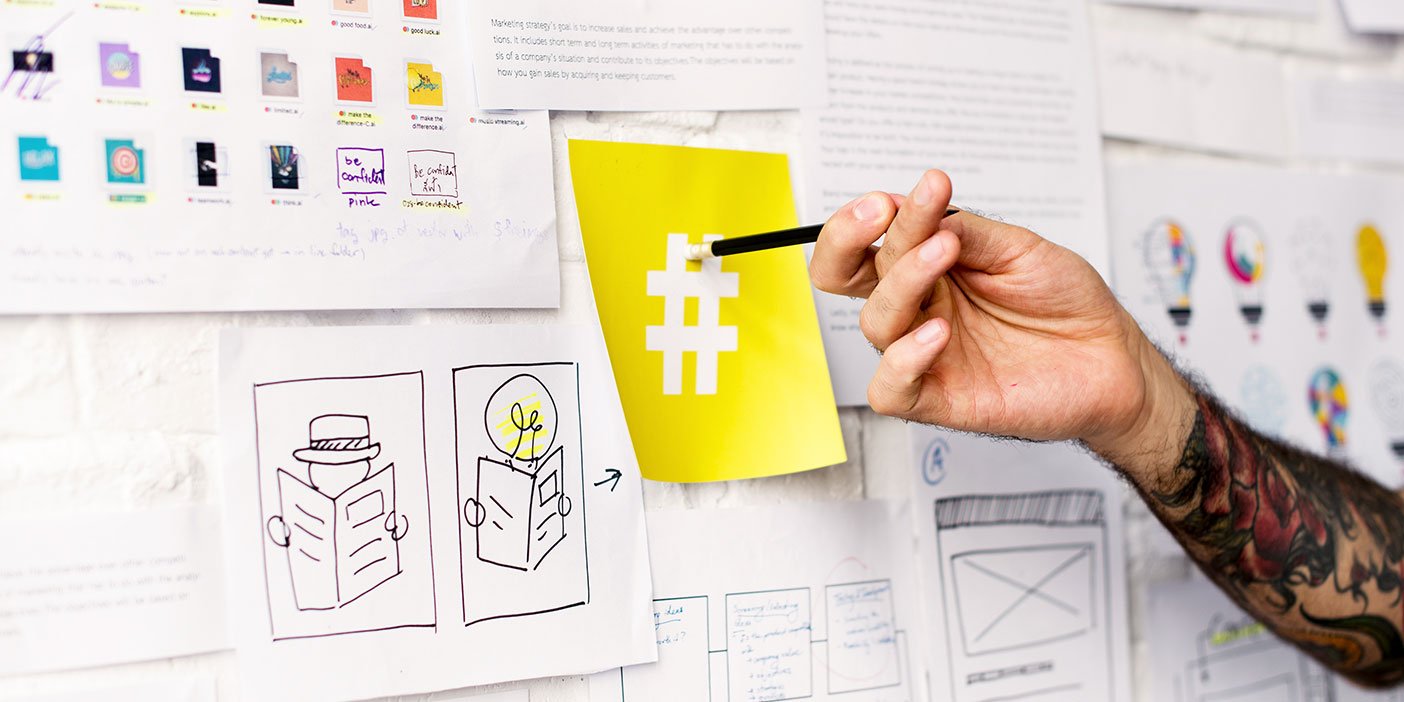 When To Use Hashtags?
One of the biggest plus points of hashtags is that they work all the time. But how successful your hashtag is might depend on your post timing and popularity of the hashtag. As mentioned earlier, using trending hashtags is essential but the right timing is the catch to get the most out of it.
A lot of brands are great examples of using trending hashtags to gain exposure, but you don't have to be a renowned national brand to reap its benefits. All you need is the intuition to recognize the right timing to enter the conversation.
Whenever posting hashtags, whether they are trending or not, you need to be strategic about which ones you are going to use. Timing can also affect the not-so-popular hashtags too. See how a hashtag has aged like if the current events have made it irrelevant or if it has lost its popularity. For instance, #quarantine was a viral hashtag during this pandemic, but using it after six months won't do any good. Overall let your intuition and gut guide you regarding whether or not it is a suitable time for using your intended hashtags.
Where To Use Hashtags?
As discussed above, you can post hashtags anytime they always work. Likewise, you can post them anywhere — from captions to stories to comments on most popular social media platforms such as Instagram, Facebook, Twitter, etc. There are many creative ways of adding hashtags and mixing them up within your content, and this is where the real fun begins!
Although most of the people use hashtags at the tail end of their caption, you can place them anywhere in your caption. You can try inserting a hashtag in a sentence replacing a regular word like "I love #monsoon. It is my favorite #weather." This way, it becomes a part of the caption, avoiding the cluttered appearance but still effective. Adding a few hashtags to your bio can be a bonus. This way, your page will be more easily discovered by your target audience, and well, who doesn't want to increase their follower count?
Instagram and Facebook stories are other great places to utilize hashtags. Just like posts, when a user searches a hashtag, the relevant stories containing those will pop up on their explore section. Another fun trick to boost your reach with stories while maintaining a clean look is to hide your hashtags. You can do this by placing a sticker over your hashtag and then boom! You have a story content that is beautiful and instantly searchable.
Pro Tips
If you feel ready to log in to your social media and start using hashtags, we would like to give you some reminders as well as pro tips.
Hashtags are undoubtedly a handy feature, but ensure that you are not overloading your posts with them. Instagram allows using up to 30 hashtags in a single post. But social media experts advise only to add 5–10 hashtags per post or story. Too many hashtags can overwhelm the audience and make them scroll past your post.
Invest some time in analytics to continue using hashtags in the future. Many social media engagement services offer free plans and trials to track the effectiveness of a hashtag. By monitoring them, you can see which ones are working best for you that you should use again to expand your reach.
Last but not least, have fun with hashtags. Explore new different types of hashtags and experiment with them. Participate in conversations to introduce your brand. Don't hesitate to use new hashtags in your stories and posts as they will help new users to discover you.
---
We hope this post helped you to find out How To Use Hashtags Effectively In Social Media Marketing.
We love to hear your comments on this article. Please feel free to leave any comments here.
If you liked this article, then please share to Social Media Site. You can also find us on Facebook, Twitter, and Instagram.
Thanks for reading this article.