Google Play Music to be Replaced with YouTube Music: Google has confirmed that it will close its music streaming service Google Play Music later this year. The company has opted for its YouTube music streaming platform instead. Google has ensured that it will inform users of its streaming platforms long before they lose access to Google Play Music later this year, thus confirming its closure.
As reported by Google in a statement, users of YouTube Music and Google Play Music will be able to access both services for the moment. Hence, they can have enough time to transfer their content and get used to the new service. In order to ease the transition between the new and the old platform. YouTube Music has introduced a feature that allows transferring the content from Google Play Music in a few steps.
Before continuing, it is important to note that at the moment, the move from Play Music to YouTube Music has not yet started in India. This suggests that the feature is rolling out in waves, and is likely to take a while before reaching all.
How to transfer music from Google Play Music to YouTube Music
Google has started suggesting Google Play Music users that they switch to YouTube Music and will provide enough time to users for the easy transition. It is suggested that Google Play Music will shut down by the end of this year. Since YouTube has introduced a method to switch all your songs to YouTube Music for easy music streaming even on a different platform, here's how to transfer stuff from Google Play Music to YouTube Music with ease:
Install YouTube Music app on your Android or iOS Device
Once downloaded, open the YouTube Music app
Now, either tap on the 'Transfer your Play Music library'  on the app or select the 'Transfer from Google Play Music' option in the Settings. This will transfer all your uploads, purchases, added songs and albums, personal and subscribed playlists, likes and dislikes, curated stations, and more with to the app
Select the 'Let's Go' option and you will see a list of all the Google Play Music stuff you need to transfer
Finally, select the 'Transfer' button option and in some time (a few minutes or even days), you will receive an email or app notification from Google telling you that the process is complete
Following this, you will see all playlists, library, and more from Google Play Music to YouTube Music
Additionally, if you need to transfer your podcasts, you can head to the Google Podcasts Transfer page and shift all your content with a single click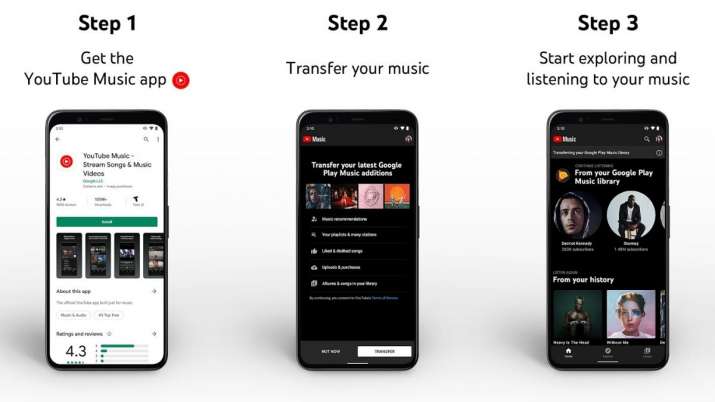 Fans can enjoy the ad-supported version of YouTube Music for free of charge, or enjoy YouTube Music Premium, a paid membership that provides listeners background listening, downloads, and an ad-free experience for ₹99 a month.
You can also try YouTube Premium to extend ad-free, background music listening, and offline playback music across all of YouTube for Just ₹129.
Google Play Music Unlimited members will be automatically granted the equivalent tier of YouTube Music Premium or YouTube Premium based on the level of benefits with their current subscription, at the same price, the company said.
One thing worth noting is that Google Play Music users will receive an email on the same before you can follow the aforementioned steps. So, if you can't find the options in the app or haven't received the email yet, you need to wait before you start.
---
We hope this post helped you to find out the Google Play Music to be Replaced with YouTube Music.
We love to hear your comments on this article. Please feel free to leave any comments here.
If you liked this article, then please share to Social Media Site. You can also find us on Facebook, Twitter, and Instagram.
Thanks for reading this article.